Patches was a mutt that we brought home from the local OSPCA. I think he was adopted for a mere $35. My mother thought it was a good idea to get a dog after my budgie (Polly, named after a very similar-looking budgie from the Polka-Dot Door) was fed a Barbie brush by my youngest sister, and then choked to death.
Patches became a member of the family the instant he appeared on the scene. I remember playing around on the kitchen floor with him, as tentative as he was. The people at the pound had indicated that there was a good chance he'd been abused as a puppy by his previous owners. For as many years as we had him, he remained insanely afraid of the water. He hated baths. He even cowered when we brought the hose out back to fill his water bowl. It took a long time for him to trust us, but eventually, he was a cuddly and happy dog. For the first half of his life, he lived outdoors. He was always tied up, but to a very long rope that allowed him free reign of the backyard. With all that space, it was funny how he really preferred the very edges of his territory. He would run back and forth on the last path of land that his rope would allow him to reach, so there was always an arc or worn grass in our yard. I remember one day going out back to say hello to him, and his lips did a strange snarly thing at me. I thought he had rabies and ran back inside. Later, I realized that that's how dogs smile. When Patches rewarded me with a smile, it made my day.
He loved spaghetti and cheese slices, and sticking his nose out of the window during car rides. Sometimes he would smell home and jump out of the moving car to race there before us. He once made friends with a rabbit in the yard, and even began imitating the bunny's hop. He was terrified of thunder storms, and would claw his way up around my shoulders to sit out their duration.
He slept in the basement every night, and in the mornings we would let him out to do his business. In the snow, he would act insulted that his paws should touch such cold stuff. Often he would roam a little around the neighbourhood, but when we called him back, he always came. Then one day, when we opened the door to let him back in, he was there, without being called. He slinked in the door, and went downstairs. No vying for breakfast crumbs. No scratching himself under the coffee table. When I followed him downstairs, he bared his teeth at me, and gave a half-hearted growl. He was hiding himself in with the storage. And then I noticed it: blood. He was attacked by a German Shepherd that had been stalking the neighbourhood of late.
We rushed Patches to the vet, and he was saved, but just barely. The doctor retrieved pieces of the other dog's teeth from a hole in Patches' neck. His recovery was lengthy, and though he did recover physically, he was a different dog. He no longer spent his days outdoors. He became a house dog. He slept with me at the foot of my bed. He was intrigued with the wall of mirrors I had in my room; his reflection was sometimes a source of amusement to him, and sometimes a source of apprehension.
His health slowly declined. He had arthritis and was going blind. He was becoming less and less mobile. We made the painful decision to put him down. I should say that my mother and I made that decision, and while we were at it, my mother also decided that it would be best not to saying anything to my sisters until after the fact. The few days we had left for him were hard for me: I got to say goodbye, I snapped a lot of pictures, but I had to do it quietly.
I held him in my lap as we drove to the vet's. Truthfully, I think he knew. The vet gave him the first shot to "relax" him. I wish there had been a shot like that for me. I got to stay with him while the shot did its work. Eventually, his legs didn't work for him anymore, so he just laid in my arms and rested. It was heart-wrenching. The worst feeling and the deepest sadness I have ever known. Then the vet came to get him, to give him that last shot. He laid on a table that had an old Star Wars blanket on it; I noticed it because I had the matching sheets on my own bed, inherited from an older cousin. Patches took his last breath, and closed his eyes.
My mother and I sat in the van in the parking lot for a long time, neither of us able to drive home. To this day, I have never cried harder. We also knew that at home we would have to tell my sisters what we'd done. I still miss him.
My mother vowed that she would never have another dog again because she knew she could never go through that last scene again. For a long time, I felt the same way, but the fact remains that I love have a doggie around, and after I had moved in with Jason, I felt that presence was missing. We mulled it over a long time (which means, I begged Jason mercilessly). Jason had previously been a cat person and wasn't sure how he would get along with a dog. Finally, he realized that my nagging wasn't about to stop any time soon, so we braced ourselves and went out into the world of doggie adoption.
My instinct was to search the OSPCA again, so we toured all the dog pounds in the area. We spent hundreds of dollars in cab fare going from place to place, and the end result was Jamie in tears. I couldn't stand all the sweet faces looking up at me from their cages, begging to be brought home. I couldn't adopt all of them. As it turned out, I couldn't adopt any of them. The shelters only had bigger breeds, and though we didn't have any breed in mind (mutts are still okay by me), we had done our research, and wanted a small dog to suit our apartment lifestyle. Jason comforted me, and realized that he had a lot more on his hands than he had bargained for. His girlfriend had a broken heart.
That's when Jason did what he does best: he swung into action to make sure I got what I wanted. He called around to pet stores, and found some suitable possibilities. We walked into one, and there she was, our new puppy. She was the tiniest, sweetest little thing I had ever seen. She was a cockapoo (cocker spaniel-poodle mix), and had curly black hair with splotches of white. She was extremely friendly and cuddly from the get-go. We bought all sorts of doggie paraphernalia, and brought her home.
The first week we had her, she was a no-name dog. We tried out many, but none seemed to fit her personality. Finally, it was my mother who made the suggestion Mabel, and that was it. Mabel was a funny little dog. She hated exercise. I adore going for walks, but we soon learned that Mabel was good for one lap around the block, and that was it. Any further and we'd have to carry her home. She loved to play, though, and did so actively. She would bring us her purple dinosaur, and when we threw it, she would take off like she'd been ejected by a canon. She never got used to the hardwood flooring, and she would slip and slide, and body-check herself off of the bed and just keep going.
Mabel got a bit taller, but never much bigger. We had to groom her regularly because of the poodle in her. She would have weekly baths, and act insulted but really reveled in the attention. I would towel her dry, but she still insisted on laying her nose to the carpet in the hallway, and rubbing herself dry on the flooring. Mabel was a real princess. My sisters adored her, and she made friends wherever she went.
It was a good thing she was so cute because she got into a lot of trouble. Garbage was her real passion in life, and she made enough of her own to leave us baffled that so much could come out of such a small little dog. We became concerned over her too-many bathroom trips and inability to gain weight. We took her to the vet's, who told us to put her on a special diet and monitor her progress. We did, but nothing really changed. When we bathed her, we could see her skinny little ribs sticking out.
The next trip to the vet was tragic. He told us that our Mabel had a twisted stomach and that she would not ever be healthy. She would suffer, and die a drawn-out death. He suggested to us that the best thing for Mabel would be to leave her there and have her put down. Knowing that something is 'for the best' does not make it easy to do. We said our goodbyes, as she smiled at us, wagged her little tail, ever eager to play.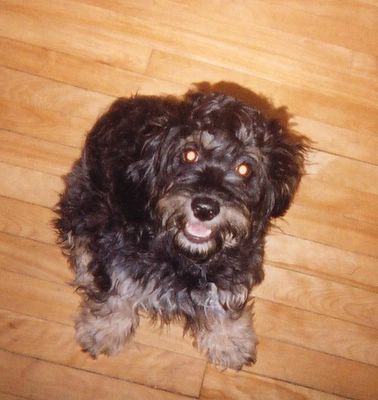 Mabelline
So, two dogs, two good friends, two broken hearts. It's been two years since we left the vet's without Mabel, and I'm starting to get that itch again. Am I crazy? Mabel and Patches are irreplaceable, and losing them was awful, but I can't help but feel like a doggie would be a nice addition. I love coming home to that happy face. I love making someone's day just by getting out the leash. I think it's getting to be puppy time.